Sports
United Airlines NYC Half Marathon 2019
Race Recap & Press Release From NYRR

| | |
| --- | --- |
| Joyciline Jepkosgei (KEN) | Source: MN Shakoor | UABN-NYC.com |
New York City Art Sports & Entertainment - #UnitedNYCHalf #NYRR

Date: Sunday March 17, 2019
Location: Mile 12 Central Park South and 5th Ave, Manhattan
Article Source: https://www.nyrr.org/media-center/press-release/20190317_uanychresults

Photo Credit: UABN Photography www.uabn-nyc.com & F.E. Hopson Photography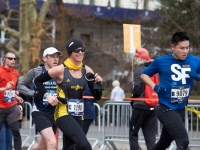 In the women´s open division, Jepkosgei, the half marathon world record-holder, won her first-ever race in the United States on a solo run to the finish in a time of 1:10:07. The world championship silver medalist in the distance became the sixth woman from Kenya to win the event, and the first to do so since 2014. Fellow Kenyan Mary Ngugi came through the finish line one minute later in 1:11:07 to take second place, 15-hundredths of a second ahead of last year´s champion, Ethiopia´s Buze Diriba. Emma Bates, the 2018 USATF Marathon champion, was the top American in the women´s open division, taking fourth place in 1:11:13. She was followed by 2018 Boston Marathon winner Des Linden in fifth place in 1:11:22. In the men´s wheelchair division, Daniel Romanchuk followed up his TCS New York City Marathon title with his first United Airlines NYC Half title, taking the tape in 51:35. After winning the last four editions of the event, South Africa´s Ernst van Dyk took second place in 52:08, as American Aaron Pike clocked in just seconds behind to finish in third. McFadden, an NYRR Team for Kids Ambassador, won her second career United Airlines NYC Half title and first NYRR race since 2016 with a time of 57:18. Switzerland´s two-time defending TCS New York City Marathon champion Manuela Schär was unable to defend her title, finishing just behind McFadden in 57:27. American Susannah Scaroni recorded her fifth consecutive career podium finish in the event, taking third place in 58:51. The professional athlete field included nine Olympians and nine Paralympians who navigated the 13.1-mile course through neighborhoods in Brooklyn and Manhattan and past iconic New York City landmarks, including Grand Army Plaza, the United Nations, Grand Central Terminal, and Times Square. The United Airlines NYC Half is one of seven races "" from the mile to the marathon "" organized by New York Road Runners, which features invited professional athlete fields and makes up the NYRR Pro Racing Series. The NYRR Pro Racing Series also includes the NYRR Wanamaker Mile, UAE Healthy Kidney 10K, NYRR New York Mini 10K, New Balance 5th Avenue Mile, USATF 5K Championships, and the TCS New York City Marathon. In addition to the professional athletes and citizen runners who covered 13.1 miles, the 2019 United Airlines NYC Half hosted more than 1,000 youth runners in the Rising New York Road Runners at the United Airlines NYC Half on a 1200-meter out-and-back course on Seventh Avenue. Rising New York Road Runners is NYRR´s free, year-round youth program and events platform that serves nearly 250,000 youth across the country annually. New this year, those not running the race in person have been able to bring the race their own neighborhood and run it virtually. The NYRR NYC Half""Virtual 13.1M has allowed runners to race anywhere in the world on their own time between March 14 and 17. Runners who completed the virtual race will receive one guaranteed, non-complimentary entry to the 2020 United Airlines NYC Half and a finisher medal."
Race Results courtesy of Watch Athletics www.watchathletics.com
Top Men

1. Belay Tilahun (ETH) 1:02:10
2. Daniel Mesfun (ERI) 1:02:16
3. Paul Chelimo (USA) 1:02:19
4. Jared Ward (USA) 1:02:33
5. Noah Droddy (USA) 1:02:39
6. Brogan Austin (USA) 1:02:41
7. Tim Ritchie (USA) 1:02:51
8. John Raneri (USA) 1:02:51
9. Parker Stinson (USA) 1:02:55
10. Ben True (USA) 1:02:56

Top Women

1. Joyciline Jepkosgei (KEN) 1:10:07
2. Mary Ngugi (KEN) 1:11:07
3. Buze Diriba (ETH) 1:11:07
4. Emma Bates (USA) 1:11:13
5. Desiree Linden (USA) 1:11:22
6. Birtukan Fente Alemu (ETH) 1:12:17
7. Bevery Ramos (PRI) 1:12:33
8. Kellyn Taylor (USA) 1:12:43
9. Samantha Palmer (USA) 1:12:52
10. Lindsay Flanagan (USA) 1:13:13

Wheelchair Women

1. Tatyana McFadden (USA) 57:18
2. Manuel Schar (SUI) 57:27
3. Susannah Scaroni (USA) 57:51
4. Margriet Van Den Broek (NED) 1:04:27
5. Katrina Gerhard (USA) 1:04:54
6. Arielle Rausin (USA) 1:07:20
7. Michelle Wheeler (USA) 1:13:23

Wheelchair Men

1. Daniel Romanchuk (USA) 51:35
2. Ernst Van Dyk (RSA) 52:08
3. Aaron Pike (USA) 52:08
4. Josh George (USA) 56:47
5. Brian Siemann (USA) 1:05:13
Liability for this article lies with the author, who also holds the copyright. Editorial content from USPA may be quoted on other websites as long as the quote comprises no more than 5% of the entire text, is marked as such and the source is named (via hyperlink).
| | |
| --- | --- |
| | Daren Frankish |
| | RAHMA-SOPHIA RACHDI |
| | Ruby BIRD |
| | Yasmina BEDDOU |
| | Aurangzeb Akbar |